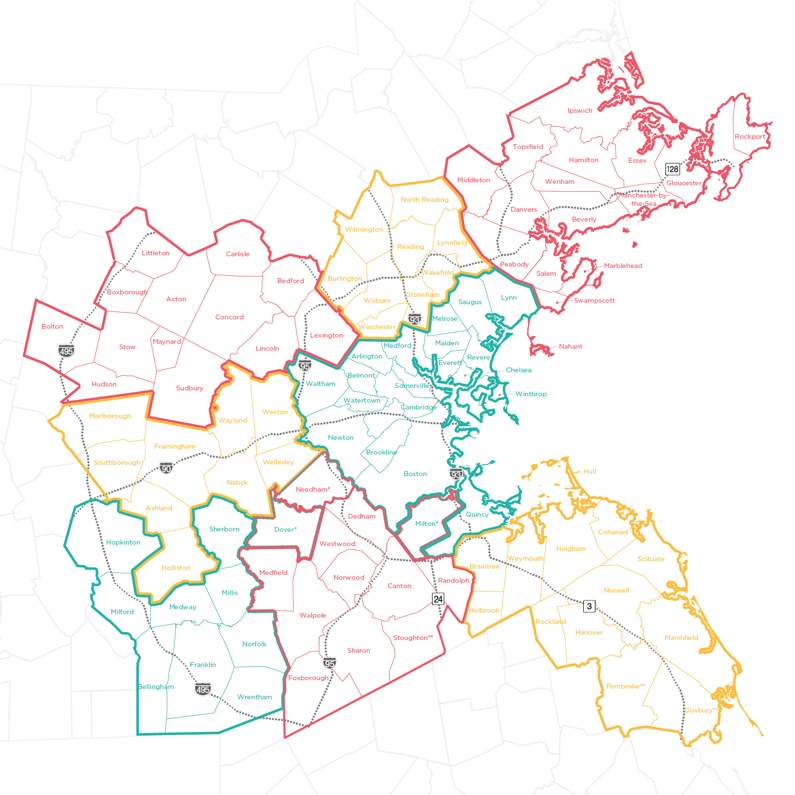 Inner Core Committee
The ICC consists of representatives from twenty-one of the metropolitan area's innermost communities: Arlington, Belmont, Boston, Brookline, Cambridge, Chelsea, Everett, Lynn, Malden, Medford, Melrose, Milton,* Needham, Newton, Quincy, Revere, Saugus, Somerville, Waltham, Watertown and Winthrop. The Boston Redevelopment Authority and the Metropolitan Area Planning Council are also voting members of the Committee.
MetroWest Regional Collaborative
The MetroWest Regional Collaborative (MWRC) serves the MetroWest region of Eastern Cochituate Aqueducts, Natick, Mass.Massachusetts, from I-95 to I-495 along the Route 9 corridor. MWRC serves as a think tank and advocate for locally initiated regional solutions to policy and planning challenges shared by MetroWest communities.
Minuteman Advisory Group on Interlocal Coordination
Minuteman Advisory Group on Interlocal Coordination (MAGIC) is a group of thirteen communities northwest of Boston working collaboratively on issues of regional concern. Established as a growth management committee in 1984, it has become a respected voice in regional decision-making. MAGIC consists of representatives from the following thirteen communities: Acton, Bedford, Bolton, Boxborough, Carlisle, Concord, Hudson, Lexington, Lincoln, Littleton, Maynard, Stow, and Sudbury.
North Shore Task Force
The North Shore Task Force (NSTF) is a group of 16 communities north of Boston working collaboratively on regional issues. The goal of NSTF is to cooperate with, and to assist, each member municipality in coordinating its planning and economic development so as to obtain maximum benefits for the North Shore district.NSTF communities include Beverly,Danvers,Essex, Gloucester, Hamilton, Ipswich, Manchester-by-the-Sea, Marblehead, Middleton, Nahant, Peabody, Rockport, Salem, Swampscott, Topsfield, and Wenham.
North Suburban Planning Council
The North Suburban Planning Council (NSPC) is composed of eight towns and one city that have formed a voluntary association to facilitate cooperative regional planning. NSPC membership includes town managers and administrators, planning staff, and members of Planning Boards and Boards of Selectmen from the following nine communities: Burlington, Lynnfield, North Reading, Reading, Stoneham, Wakefield, Wilmington, Winchester, and Woburn.
South Shore Coalition
The South Shore Coalition subregion comprises 13 towns on the South Shore within the metropolitan Boston area. The towns are Braintree, Cohasset, Duxbury, Hanover, Hingham, Holbrook, Hull, Marshfield, Norwell, Pembroke, Rockland, Scituate and Weymouth. The South Shore Coalition (SCC) consists of member positions, one for each of the 13 municipalities.
SouthWest Advisory Planning Committee
The SouthWest Advisory Planning Committee (SWAP) is comprised of up to twenty members representing ten communities southwest of Boston. The purpose of SWAP is to foster joint and cooperative action concerning transportation, land use, economic development, housing, historic preservation, water resources and the environment. Informed and active cooperation among neighboring communities helps to serve the needs of residents, businesses, commuters and local governments. SWAP's membership consists of the following towns: Bellingham, Dover, Franklin, Hopkinton, Medway, Milford, Millis, Norfolk, Sherborn and Wrentham.
Three Rivers Interlocal Council
The Three Rivers Interlocal Council is composed of thirteen communities south of Boston: Canton, Dedham, Dover, Foxborough, Medfield, Milton, Needham, Norwood, Randolph, Sharon, Stoughton, Walpole and Westwood. Three Rivers takes its name from the three major rivers in the sub-region: the Neponset, Charles, and Canoe Rivers.